Written by

Juan Salazar
While most people have spent their summer fixated on the latest Netflix series, a Mexican soap opera has been playing out in Mexico's telecom community. It has intrigue, suspense, bitter rivals, unsaid understandings and an existential battle for the heart of the Mexican telecom reform.
What is the Zero Interconnection Rate?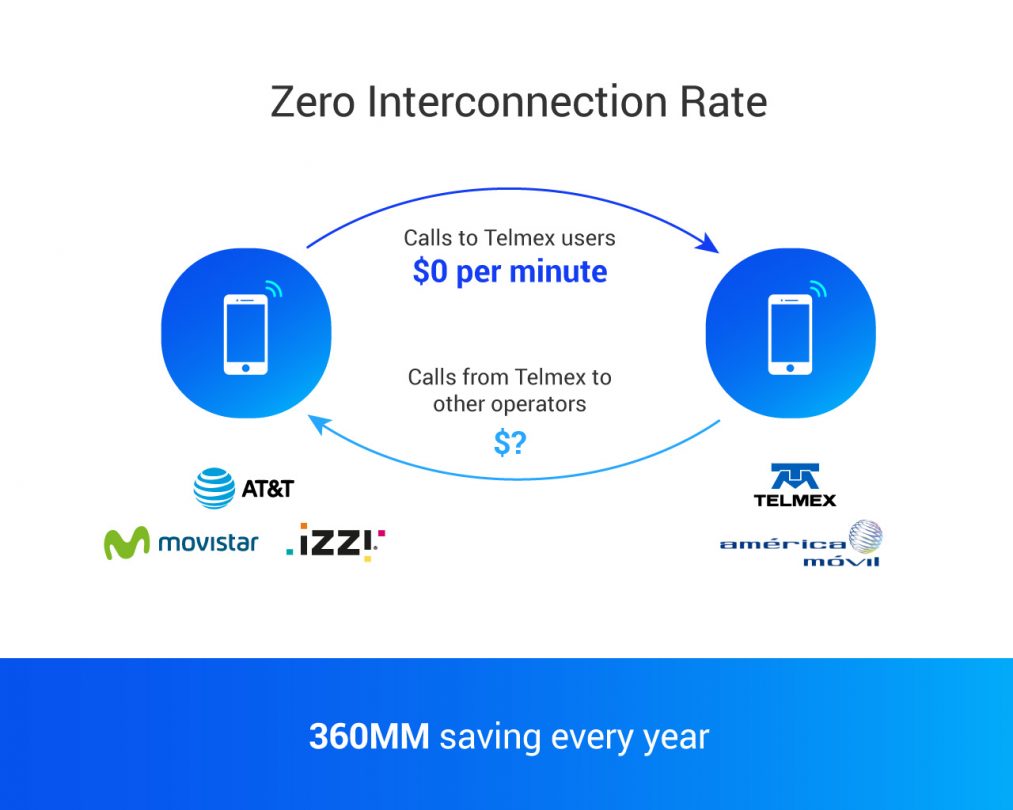 As a result of the Telecom Reform Act of 2014 America Movil and its affiliates (i.e. TELMEX), controlled by billionaire Carlos Slim, were declared to be the dominant player and were imposed specific rules. One such rule was Article 131; the very provision struck down last week. This article states, [while there is a dominant player such as Telmex group, they] "will not charge other carriers for traffic terminating on its network, and for Telmex traffic terminating on other carrier networks the interconnection rate will be freely negotiated."
This meant that other carriers no longer had to pay to terminate traffic on Telmex's network.
This move encouraged AT&T to jump headfirst into the Mexican telecom market. Over the last 3 years AT&T has spent 4 billion dollars in purchasing both Nextel and Iusacell, and building out infrastructure to compete against Telmex.
Reaction to the court ruling
In Favor:
Commenting on the issue, Rodrigo Morales Elcoro (an advisor to the IFT) said the resolution rather than being a setback for telecom reform; the decision strengthens the regulatory capacity of the IFT. "In the long run, the decision strengthens regulatory policy which is dependent on autonomous and technical decisions, not decisions that often can be vulnerable to political pressure. Strengthening the regulator is positive because Congress cannot micromanage an autonomous body [referring to IFT], ".
Intimating that the Zero Interconnection Rate is dead, Mr. Morales Elcoro said that an interconnection rate set by IFT, "could be a fair rate. It is almost impossible to set a zero rate because it would create a new conflict and because it is not possible to provide a service without payment, any provision of services has a cost associated matter how minimal." (*)
Against:
Ernesto Piedras, the CEO of the Competitive Intelligence Unit, (a local market research and consulting firm with extensive experience in the communications, infrastructure and technology sectors), stressed that the current asymmetrical interconnection rates allowed Telmex rivals a savings of 360 million dollars per year.
"[The asymmetrical rate] has led to the implementation of competitive strategies based on significant capital investments on infrastructure."
"So that in the last few years these operators [such as AT&T] have invested heavily in infrastructure deployment and network consolidation to the tune of approximately 10 billion dollars, proportionately 65% [of all telecom investment], while the dominant operator (Telmex) has invested 35%."
Piedras added that once network operators have to pay for call termination, investment opportunities will be limited, and operational efficiencies and infrastructure deployment will lag. (**)
Conclusions
It is unclear as to how the IFT will proceed. Currently, the interconnection rate remains unchanged for the rest of 2017. The court did, however, rule in AT&T's favor by not enforcing retroactive interconnection fees. Had the court ruled in favor of retroactive billing; carriers were facing upwards of $800 million dollars in fees to Telmex.
On the surface, Telmex appears to be the victor because of the uncertainty this ruling has created. That is something that is going to be baked into any strategic planning done by international carriers (such as Sprint or Verizon) eyeing a foray into the Mexican market. They may interpret this ruling as proof that the Mexican regulatory reform is not written in stone.
A more likely scenario is that international carriers will continue to come to Mexico, but with more realistic expectations. They will interpret this ruling as a clear signal that Telmex isn't going to take this lying down and if you want to play in their backyard, you are going to have to play by their rules.
As the man said, this is chess, not checkers…
Sources:
(*) Escalona, Claudia Juárez. "Decisión De La SCJN Fortalece Capacidad Regulatoria Del IFT", El Economista, 18 Aug. 2017, eleconomista.com.mx/industrias/2017/08/18/decision-scjn-fortalece-capacidad-regulatoria-ift
(**) Reforma, Page. 6 Negocios