Written by

Ana Zapién
ITW has become the event of the year for the telecom industry by bringing together more than 6,939 people from 2,081 companies (representing 135 countries) each year.
For many of us, this is the perfect opportunity to connect, search for business opportunities, and make ourselves and our brand known. Time is money, and it's essential to step up your multitasking skills to get a positive return from the event: New contacts, new businesses, meetings completed, etc.
In this blog, we will give discuss tips and strategies to better conduct your meetings and get the most out of ITW 2019.
It all begins with a Canvas
A great strategy for better meetings is to develop and use a template that way your information and data is organized and readily available. Check out MDC's Meeting Summary canvas – designed exclusively for this industry.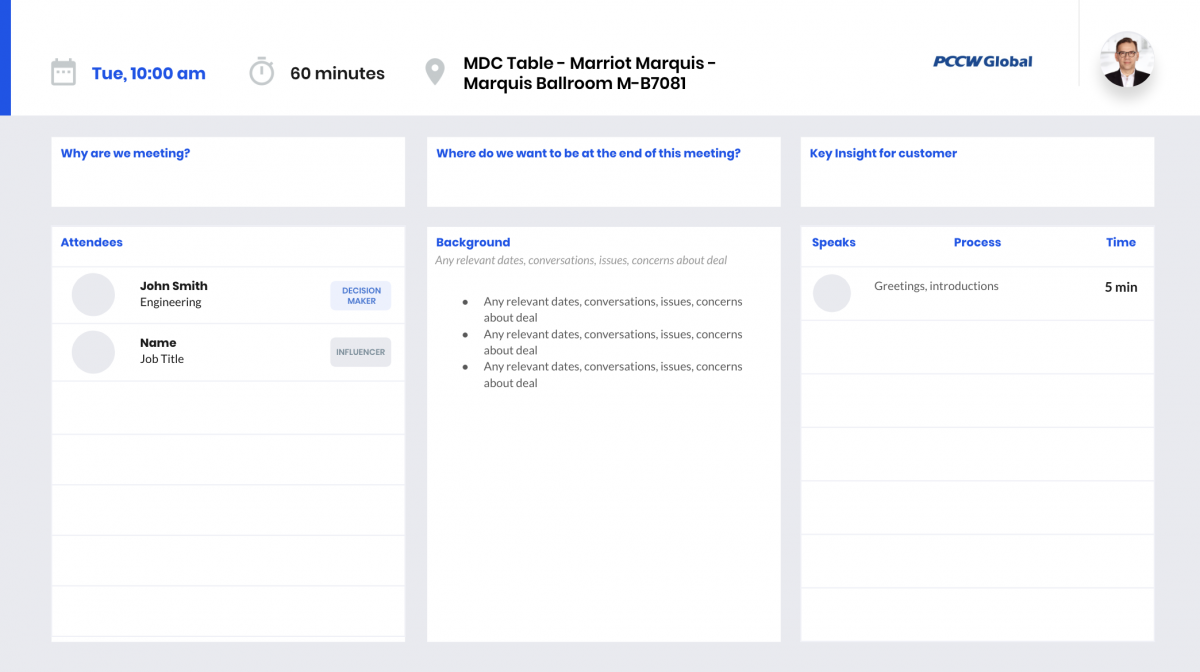 This is the most essential information you should aim to capture: General information about the meeting (date, time, duration, etc.), relevant information before the meeting, and information about the attendees and their roles – make sure to include both your company, as well as the company with which you will meet.

What should I include in the Meeting Summary canvas?
A space to complete general data:
Date and place of the meeting
Board(s) Responsible
Duration of the meeting
A space to complete specific information about the meeting
Reason for the meeting
Three key goals that you hope to achieve after the meeting. It is crucial that each meeting has clear objectives. We recommend that these are not very ambitious or extensive – be realistic, be concrete and try not to go beyond three.
Three key insights about the client you are meeting with. It may be likely that during the meeting you will not immediately establish how to connect your products and/or services with the needs of the company. Write down those three key insights, or observations, that will help you have another reason to share a follow-up mail.
A space to complete specific data about the attendees
Information about the invitee: Their name, the job title of those in attendance, and what role they have in the meeting – decision makers or influencers being some examples.
Background: Here you can place relevant past experiences between your company and the company with which you meet. The context will be key to establish you as a well-aligned partner that understands the current position and potential clients of your clients. Include any other information of relevance and note vital points.
Internal Speakers: Place the name and position of the people in your company who will have the floor throughout the meeting.
Roles: Explain briefly what each of the speakers will do, so you will avoid stepping on your partner's toes, and the meeting will seem streamlined, and thought out.
Minutes: It may seem unnecessary you must mark the time of each person speaks but it will help make the most of every minute.
Download our template here:
Quick searches for ASNs and peering networks
OTT services in Mexico have had accelerated growth in recent years. According to PWC consultancy, revenues from OTT platforms in Mexico will grow 11.2% per year. For this reason, we recommend meeting with more than one content provider at ITW 2019.
PeeringDB is an incredibly important database for our industry. Our Director of Marketing and Product, Joel Pacheco, has developed a Google Chrome extension that facilitates the search of ASN, peering networks, and internet exchange points on PeeringDB.
Download the chrome extension and share: http://bit.ly/searchPDB
The plugin is very easy to use. To use, follow the instructions below:
Highlight the text on a page, right-click, and select "Search in PeeringDB."
The search will open in a separate tab.
If the highlighted text is a number, the extension will look for an ASN in PeeringDB – otherwise, you will perform a standard query on the website.
We wish you much success in your meetings at ITW 2019. See you in Atlanta!