Written by

Joel Pacheco Gonçalves
The Service Packages help you save more and do more
The much-demanded feature of our new On-site Support service is presented in two different flavors: prepaid and subscription packages.
The prepaid model allows you to purchase bulk hours in advance of a big project, data center migration, or routine maintenance on site. With a minimum purchase of ten hours, the prepaid package gives you access to our team of certified technicians to perform any type of activity in the Remote or Smart Hands category. Prepaid Hours last for 45 days, so you have plenty of time to make good use of them.
For those who want to delegate and save more, the new service introduces a monthly subscription package featuring full access to our engineers for easy, routine, and complex tasks on site. Packages have different pricing for 5, 10, or +25 hours that you can use throughout the month with a minimum six-month commitment.
Both models – prepaid and subscription – will help you improve uptime and reduce the cost of infrastructure management and maintenance. Also, as long as you have hours available your costs stay the same during business and after hours.
Three steps are all it takes on the MDC Portal
Following the launch of our new On-site Support service, our in-house development team started working on making things easier for customers on the MDC Portal. So let us unveil the new Support Package feature on the portal that allows you to request, manage, and track down activities performed on your behalf by our certified engineers.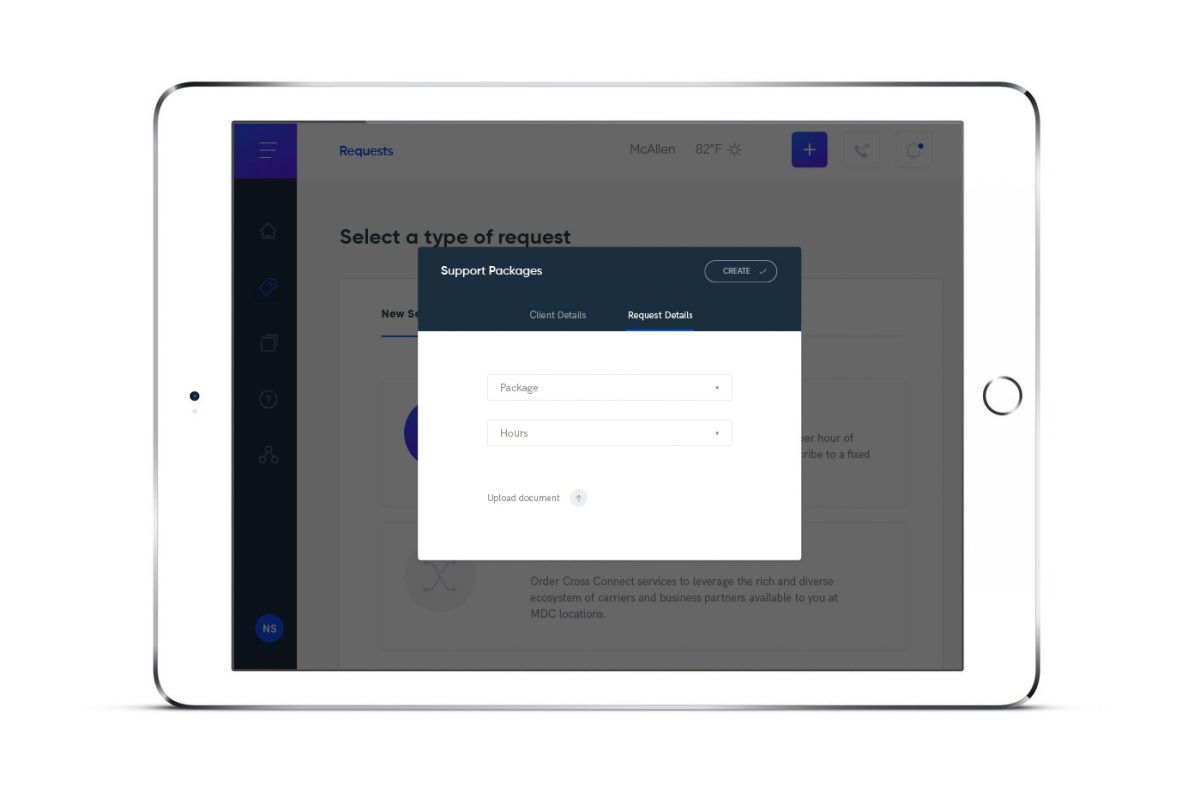 Only three steps are needed to request a new support package and start saving on infrastructure maintenance:
Step One: Go to portal.mdcdatacenters.com and log in using your credentials. If you don't have an account yet, sent an email to noc@mdcdatacenters.com
Step Two: Go to Requests and click on Support Packages
Step Three: Select the Type of Package (Prepaid or Monthly Subscription) and the Number of Hours
After clicking the Create button you are all set. During step three you can also upload a document, add a customer internal reference, and give more details of your request using the description field; however, such information is optional to open the ticket.
When you purchase a Support Package, the portal records every activity performed on site and displays an information log including the package purchased, hours used, hours remaining, and request ids, among other useful data. For your peace of mind, we deliver transparency by giving you full control and visibility of your services on the MDC Portal.
Read on: MDC Portal Q&A: A conversation with the NOC Manager
If you need further assistance or would like a training session of the MDC Portal, don't hesitate to contact us at noc@mdcdatacenters.com. We will gladly schedule a training session and answer all your questions or concerns.
Available today and 24/7 in every MDC location
The new offering for On-Site Support services is now effective and available for MDC customers and non-customers in McAllen, Laredo, and El Paso. Unlike other colocation providers, we guarantee a 24/7 support service in every location where MDC has a presence.