Written by

Ana Zapién
Despite the growth of Telecoms in Mexico, Mexican carriers have failed to consolidate a robust sales force in the United States.
According to official data from the LinkedIn professional platform, the salary of a Regional Sales Manager in Dallas / Fort Worth and surrounding areas in the United States has a base salary of USD 86,000 / year, on a scale of USD 54,400 – USD 136,000 annually. The costs associated with establishing a team, however small, implies an investment that so far has not been profitable.
Undoubtedly, Mexican carriers have enormous potential to market their products and services on the edge, but they face some obstacles that do not allow them to take a team to the border, like language barriers and high costs.
The MDC Marketplace remains an unexplored way to cover this need. More than a portal to find business opportunities, it is a free marketing and sales machinery available to our carriers.
MDC has deployed a series of initiatives at no cost to its customers, which would have an approximate value of USD 250,000 annually in the market, which is explained in detail in the following points:
An extended high-performance marketing team
Some of our Mexican clients are growing but have limited marketing teams, which makes it harder to deploy specific strategies and campaigns for the international market.
The MDC marketing team can help you with the following:
Profile build in the Marketplace
Advocacy within the ecosystem
Pipeline Acceleration
Profile build in the Marketplace
The Marketplace is our main digital tool, it hosts the world's leading ISPs, Content & Cloud Providers, and the most prominent Mexican operators in the industry. Its main function is to generate opportunities. A 100% neutral space where you can send and receive quotes with members of our ecosystem that may be interested in your business.
It is a simple platform with an easy-to-use interface, including search filters to help the user identify business opportunities and an internal messaging functionality to contact key contacts of other organizations.
"The Marketplace is a tool designed to reduce the time and the costs of searching for interconnection solutions or opportunities. A tool that works and does not demand a lot of time to learn how it works and how to find value in it" stated Lucas Gomez Freige, Director of Design at MDC Data Centers.
Unlike other platforms, it takes very little time to create a profile. The MDC marketing and design team is responsible for creating the profile with the look & feel of your brand.
Just a short 15-minute session is enough to go over details on what we need to build begin the process. A Market place profile can be ready in as little as 48 hours.
Related article: The digital transformation highlights the importance of digital products for the Telecom industry
Download the Marketplace Benefits brochure
Advocacy within the ecosystem
Once we have your profile in the Market we generate traffic through the following initiatives:
Press Release and newsletter
We will create a press piece to communicate through our newsletter your arrival to our ecosystem and promote access to your profile in the Marketplace. MDC has a base of more than 700 contacts that include the world's leading network operators, content providers, and many of the top companies in the telecommunications industry.
Sign up here for our newsletter.
Social media
We'll build traffic to your profile through our social networks in both English and Spanish. We also take care of the design and content.
Check out some examples of what we've done for our clients: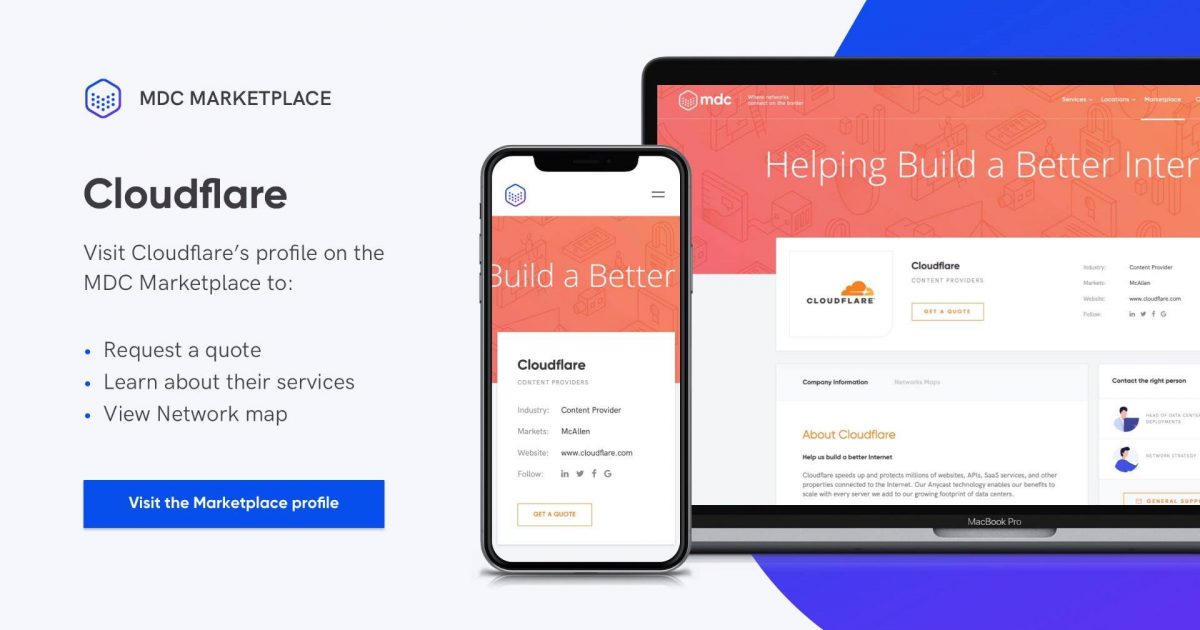 Pipeline acceleration
Take advantage of a whole communication team to can help you develop content or even help build a content syndication plan. Our marketing team will approach you to evaluate what materials we can develop together.
These strategies require a deep understanding of the ecosystem's needs, careful planning, and continuous insight monitoring and can carry an average cost between USD 4,000 and USD 10,000 but MDC offers these services at no cost to all its customers to generate leads to your directly to your Marketplace profile.
We focus on valuable content material and avoid commercial content to respect the neutrality of our initiatives.
Some of the materials that we can develop together: webinars, blogpost, handbooks, and special campaigns, if there is an important launch that benefits the members of the MDC ecosystem we can create a joint campaign.
A no-cost sales team
The marketing initiatives mentioned above are the engine that generates demand for your products and services. You'll soon generate qualified opportunities through the Marketplace and our sales team will become your best ally.
We can help you develop specific business cases, schedule meetings or calls to with operators that you're interested in, and even arrange a face-to-face meeting with them. You can make use of all these benefits once your profile is live in the MDC Marketplace.
If you are interested in starting now, write to our marketing team, you can get in touch through our managers Rene Hernández (jrh@mdcdatacenters.com) and Ana Zapién (alz@mdcdatacenters.com).